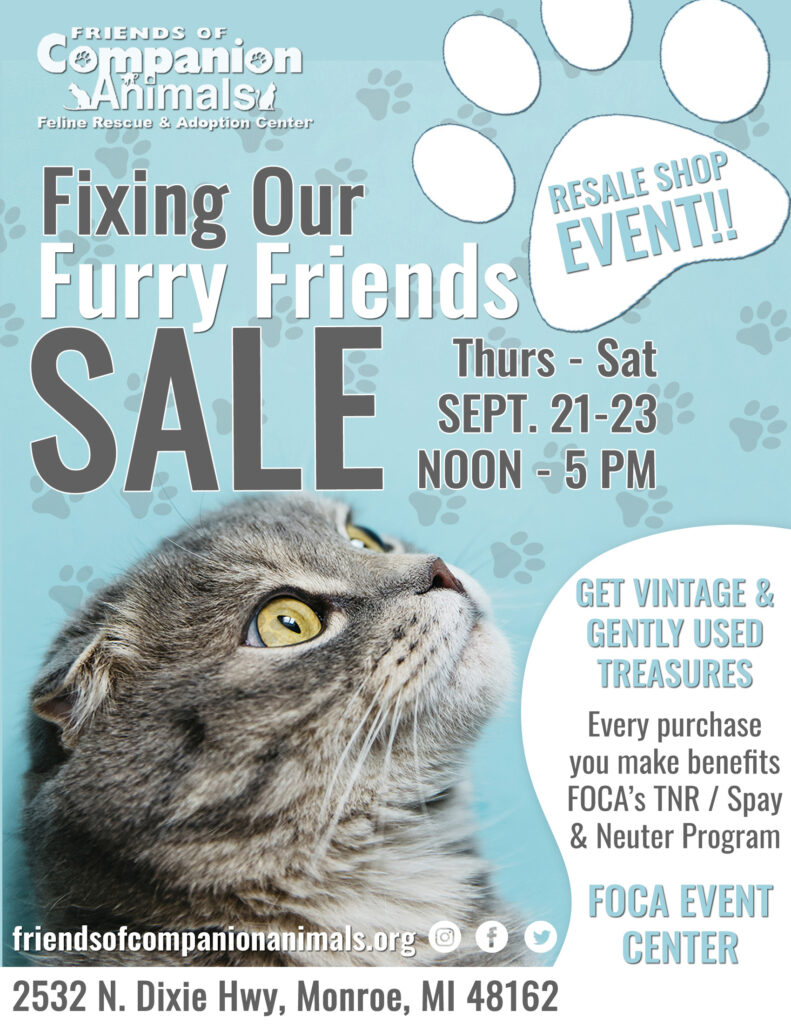 Resale shop fundraiser – Sept. 21-23

What if you could shop AND make your local community a better place? You can. Stop out at Friends of Companion Animals Resale Shop and take part in an event we're calling 'the fundraiser for fixing our furry friends' Thursday to Saturday September 21st to the 23rd. This sale at the FOCA event center will feature new and used items across various departments. As an all-volunteer operation that is donation driven, everything you spend goes directly to the shelter to help control the pet population in Monroe. Stop out Thursday to Saturday September 21st to the 23rd and make a difference. Facebook Event Link: Click Here
Location: FOCA Event Center @ 2532 N. Dixie Hwy. Monroe, MI 48162
Date: Thus – Sat. Sept. 21-23
Time: Noon – 5 PM
open air art market Sept. 30th!
CALL FOR ARTISTS: Saturday Sept. 30 noon to 6 pm. Set-up starts at 11 am each day. If you are an Artist or a Maker and would like to be part of the FOCA cat shelters' 5th annual open-air art market please send us a Facebook message or email friendsofcompanionanimals2013@gmail.com with the subject 'Art Market Call for Artists' until Labor Day. Space is limited so please get back to us asap. A single space for your tent costs $20.00, which is considered a donation to the shelter. Participants will have to bring their own tables and anything else they may need – 10×10 tents and smaller are allowed. Funds are considered a donation and go directly to the shelter. Since 'table rental' is a donation it won't be refunded should the event be canceled. In the event of bad weather the market will take place the following Saturday. Facebook Event Link: Click Here
Location: FOCA Shelter 2532 N. Dixie Hwy. Monroe, MI 48162
Date: Saturday, Sept. 30, 2023
Time: Noon – 6 pm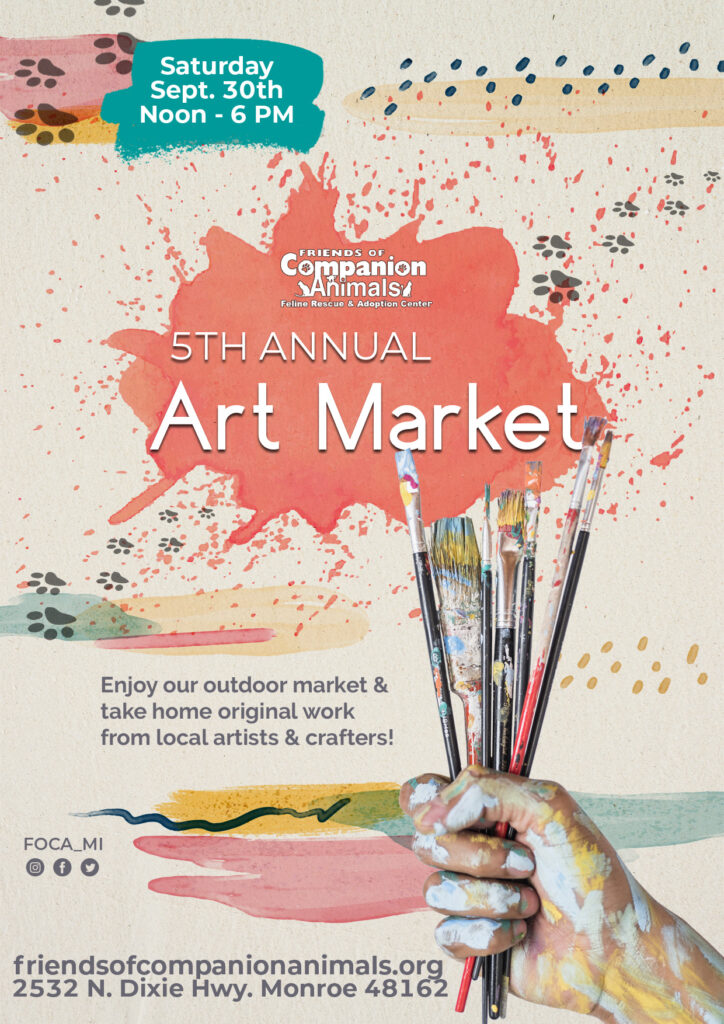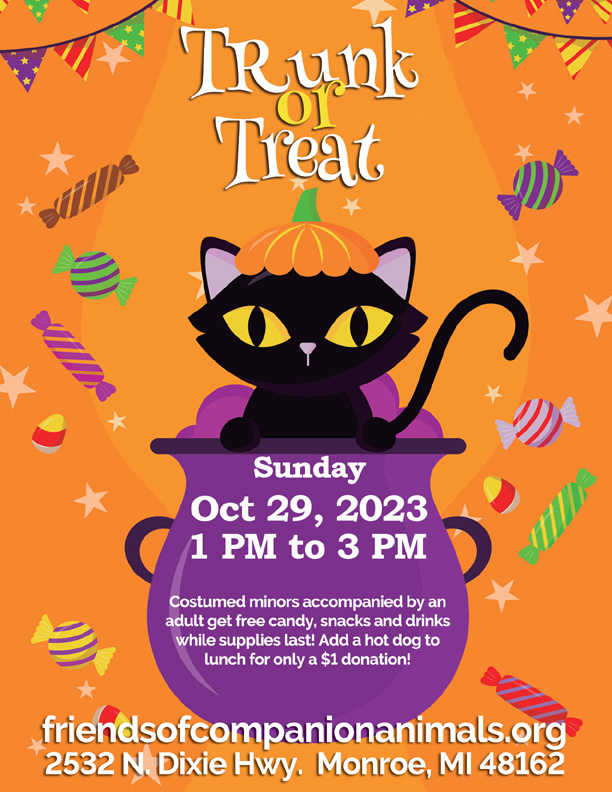 Trunk or Treat! – Oct. 28

Come to FOCA's Trunk or Treat 1-3 PM Sunday Oct. 29, 2023. Costumed minors accompanied by an adult get free candy, snacks and drinks. For just a $1 donation you can add a hot dog to lunch while supplies last! In addition to treat stations there will also be free carnival games like the egg game. Plus, for those who bring their own pumpkins or buy one at FOCA, there will be a pumpkin decorating supplies on hand. Facebook Link: Click Here
Location: FOCA Shelter @ 2532 N. Dixie Hwy. Monroe, MI 48162
Date: Saturday, Sept. 30, 2023
Time: Noon – 6 PM
Our Biggest Event of the year!
Live and Silent Auction Dinner
Enjoy an evening of great food and good times. Games of chance, 50/50 raffle and a silent and live auction are part of the fun!
The doors open at 6 pm with dinner served at 7 PM. There will be a silent auction and also a live auction during the course of the night. There will be games of chance too like mystery boxes and the deck of cards game with items worth 100's of dollars, not to mention a 50/50 raffle that benefits the shelter. Everything participants spend that night (with the exception of the cash bar) go to benefit the felines in our care! If you own a business or if you've got a generous employer, you can become a sponsor of this yearly event. Donations can include items we use in our silent auction gift baskets or ad space in our evenings' program. A business card sized ad is only $100.
As for ticket prices it's pretty affordable. It's only $52 ($15 is tax deductible) for the advanced ticket (or $60 at the door, if we still seats available that night). You can also get a discounted table for 8 people at just $365 so you can bring your loved ones (which equals just $45.00 per ticket).
Location: LaRoy's Hall 12375 S Telegraph Rd La Salle, MI 48145
Date: Saturday, November 11, 2023
Time: Doors open 6 pm. Dinner starts 7 pm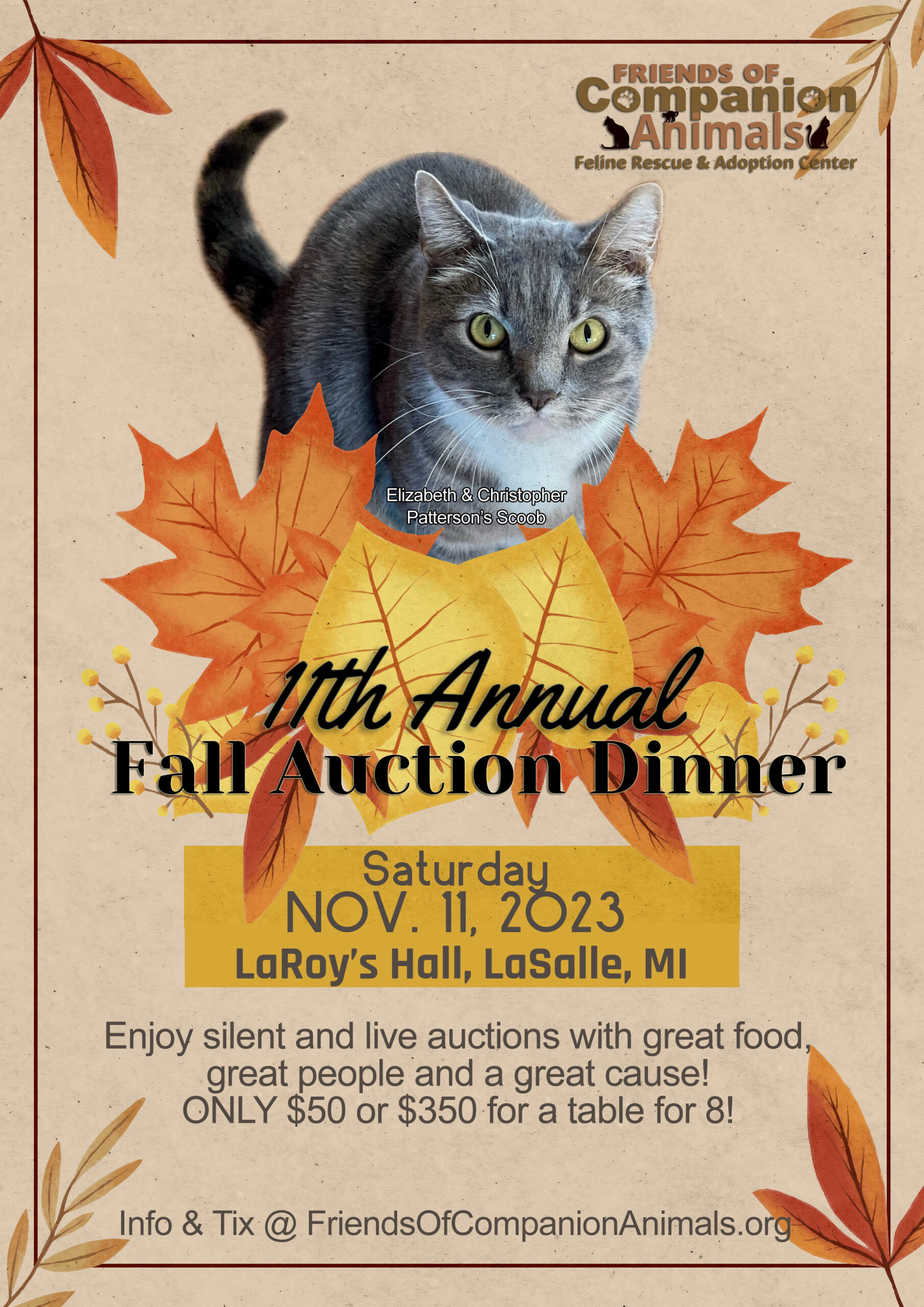 Ready to Have Some Fun? Come to One of Our Events!
Events listed here are just the main events we do on an annual basis. We have other activities through out the year too but these are ones you'll find each year.
FOCA events are three-fold: 1) they offer fun local events for our community, 2) they increase the visibility of our shelter and 3) they raise needed funds for our all-volunteer cat rescue. It probably goes without saying, but some of these activities involve cats so if you are allergic then some events might not for you.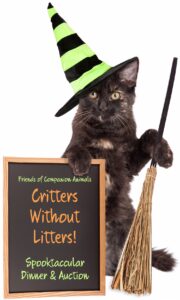 Also, by participating in any of these events you agree to our Hold Harmless Agreement, which you can read HERE. If you've got any questions feel free to contact us.